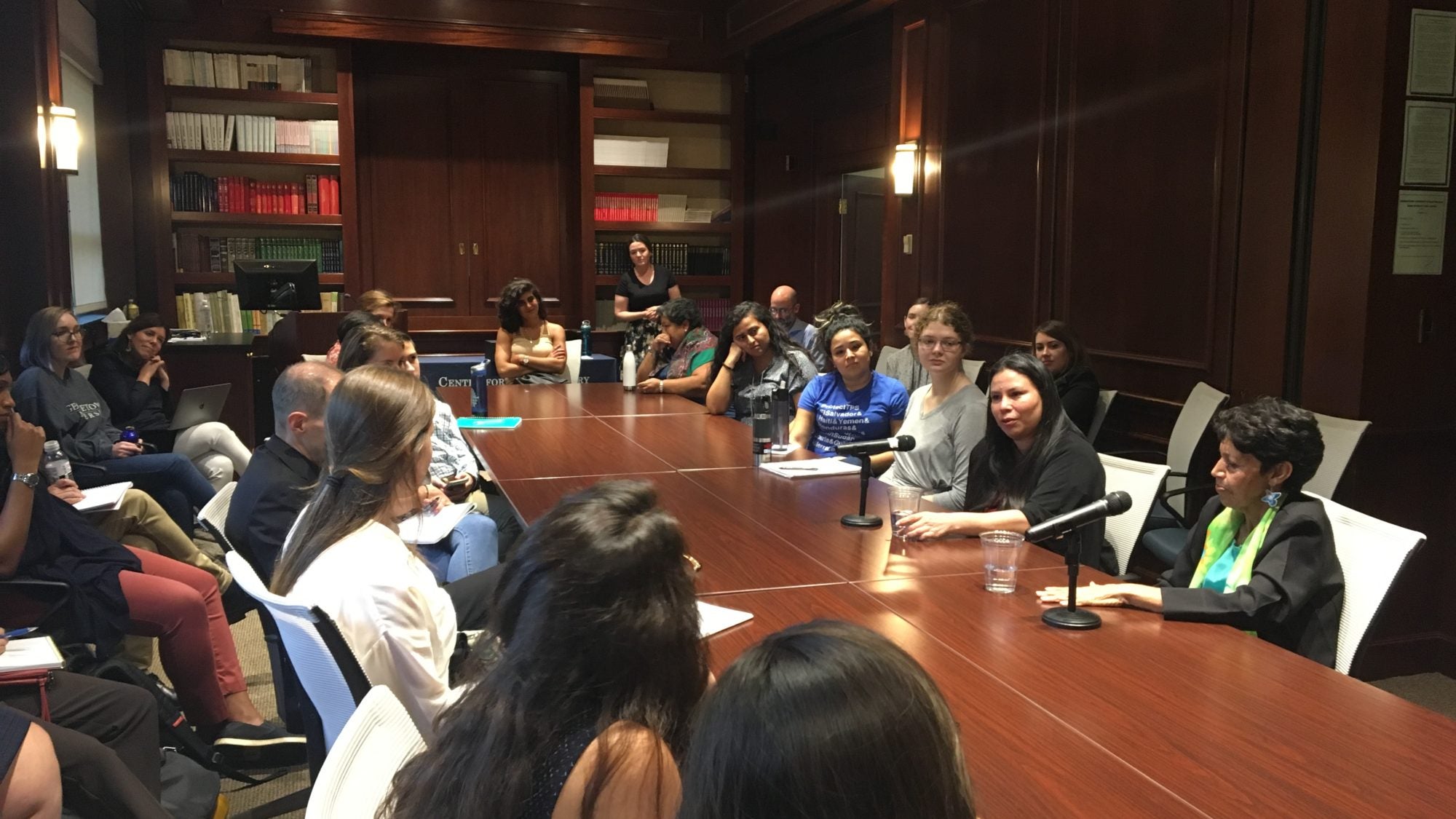 Title:

Fighting for Human Rights in Central America
Date Published:
October 2, 2019
By: Grace Valdevitt, BSFS Fellow
Following The Hillary Rodham Clinton Awards on October the 27th, The Center for Latin American Studies hosted a roundtable with two of the award honorees in the afternoon. This roundtable was an invaluable opportunity to learn from Marta Velasquez, and Rosa Anaya, two women who have been fighting for justice and peace in their country for decades.
Marta Velasquez began the roundtable by telling the story of how she ignited the fight for women's rights in her community in Honduras, one of the country's most violent. After a missionary priest saw her role as a leader in her community, he pushed her to learn how to read and write, and pass this knowledge on to others around her. She began teaching in her home, that later grew to night school, and has now been transformed into an official school. She also founded her first organization in the 80s, which was the "housewives' club". Some years later, she had the opportunity to attend a feminist encounter, and brought the ideology back into her community. In 1998, she founded the women's organization Movimiento de Mujeres de la Colonia López Arellano, which she continues to support today. Fighting against a conservative culture, and lack of resources, she now provides psychological and legal aid to victims of domestic violence, and widow's to her country's violence.
Rosa Anaya, on the other hand, started her story with that of her family. Her parents were two of the organizers of the massive 1975 student protests in San Salvador. Fighting for human rights runs in her blood. After witnessing her father's death to her country's ongoing violence, she decided that she would help inmates restart their lives. She lives a life of forgiveness, in a country torn by violence, and with inmates who have generated atrocities around her. Rosa spreads the message of forgiveness as a means to break the violent cycle of constant vengeance, which hit so close to home for her.
Students were also invited to ask questions, and we had a conversation about El Salvador's "mano dura" policy, the support, or lack thereof, from organizations to help their causes, and some of the challenges they faced along the way. It was very inspiring to hear both Marta and Rosa's stories and learn about the important work that they are doing within their communities. Father Matthew Carnes (Director of the Center for Latin American Studies) ended the conversation reminding us of each of our responsibility to fight our own fight to bring justice to our communities.