How to Apply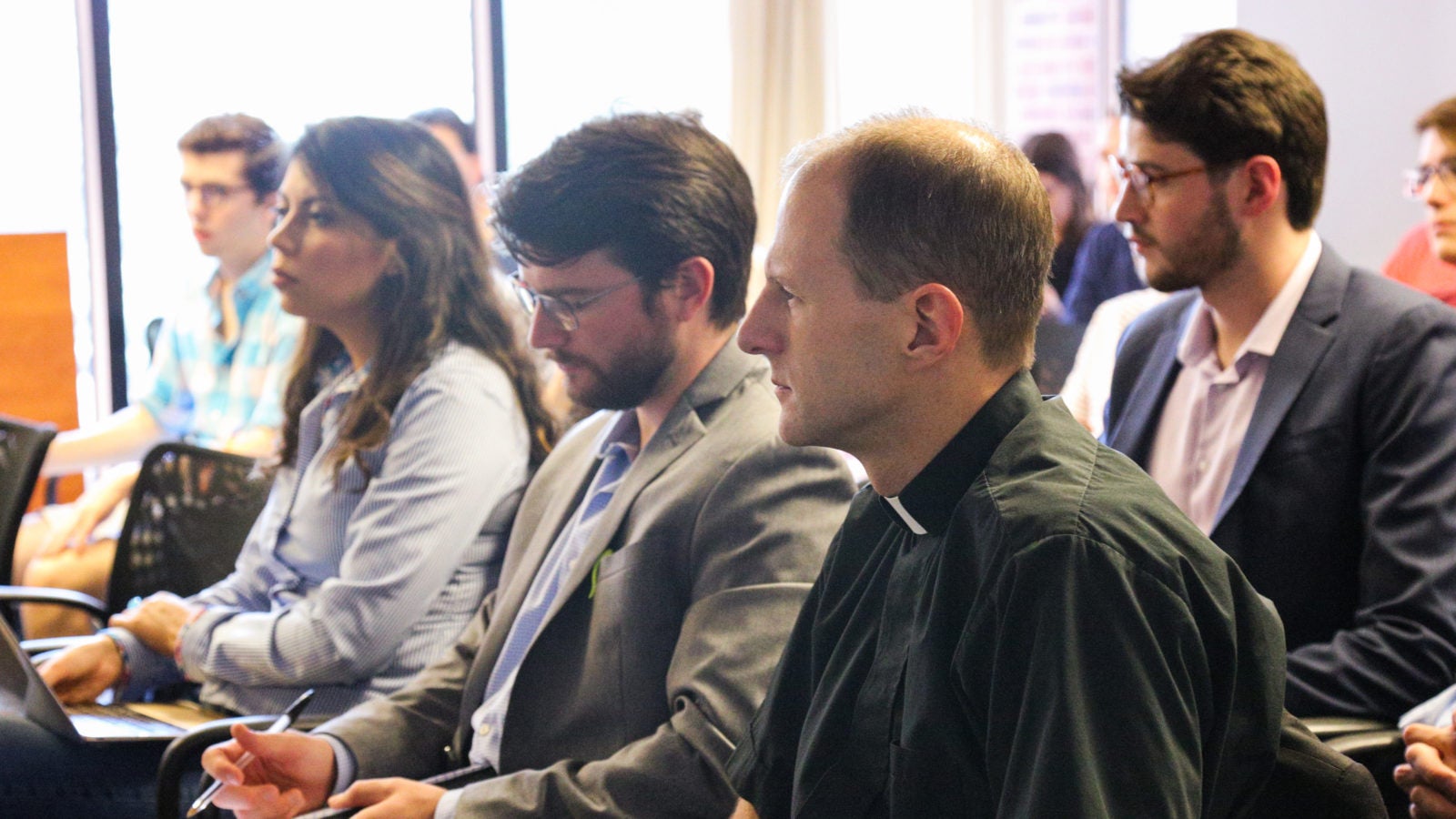 CLAS considers all elements of a candidate's application when making admissions decisions. Prior academic degrees and performance are considered alongside the candidate's experience, letters of recommendation, and personal statement. CLAS' evaluation of an applicant is based on the combined strength of all elements of the application.
CLAS places great value on such skills as the ability to adapt to new cultures, develop and manage projects, work independently, overcome language barriers, and leverage limited resources. Accordingly, CLAS strongly encourages the application of Returned Peace Corps Volunteers, Jesuit Volunteers, and Fulbright Scholars to its MA program.
Successful candidates for admission to the MA in Latin American Studies at SFS will have completed at least six semesters of lower-division Spanish or Portuguese with a C or better, or the equivalent of Georgetown's Advanced II level in either language. Native speakers of Spanish or Portuguese must meet Georgetown's standards for English language proficiency.
Applicants to the MA program must submit:
Copies of official transcripts from all undergraduate and graduate institutions attended.
A 500-word personal statement describing the applicant's academic interests and future goals.
Three letters of recommendation, a minimum of two of which are from professors or others who can speak to the applicant's academic strengths. If necessary, the third letter may be from a professional contact. Any problems obtaining letters from academic references should be addressed in an applicant's personal statement.
Test scores (Applicants who completed undergraduate work in a non-English speaking environment must achieve a satisfactory TOEFL or IELTS score.)
A GRE test is not required.
All application materials must be submitted online. Incomplete applications will not be considered.
Applicants will use the Graduate School's online application tool. The Graduate School's Application Procedures website features up-to-date information about the application process. Questions about the status of pending graduate applications should be directed to the Graduate School at gradmail@georgetown.edu.
International Applicants
English language proficiency is required of all candidates for the MA in Latin American Studies. Information about Georgetown University's standards of English language proficiency for graduate students is available on the website of the Graduate School. International applicants can also find important information about Scholarships and Financial Aid as well as Visas and Financial Certification on the Graduate School's website.
Immigration and travel questions as well as any other issues faced by an international applicant can be addressed by Georgetown's Office of Global Services (OGS). The International Student and Scholars Services (ISSS) at OGS exists to help international students through the application process and assist them with anything they may need once on campus. International students are encouraged to submit application materials early in order to allow ample time for the funding search. Please see below for more details about application fee refunds for early applicants.
Application Deadlines
The application deadline for the fall 2024 semester (prioritized consideration for scholarships) is January 15th, 2024. The final application deadline for the fall 2024 semester is April 1st, 2024. The deadline for spring 2024 is November 1, 2023. 
Fee Waivers
The standard application fee for the program is $90. However, students may qualify to have the application fee waived. Refunds are typically not available, so waivers should be cleared prior to submitting the application.
All applicants who submit their complete applications by December 1 will not be charged an application fee. To qualify, applicants must submit their complete application, including all letters of recommendation and unofficial transcripts, by midnight on December 1.
Additionally, the following groups of applicants are eligible for fee waivers (and do not need to meet the early December 1 deadline):
AmeriCorps Alumni
Congressional Bundestag Youth Exchange (CBYX) Alumni
EducationUSA Opportunity Funds Grantees
Foreign Fulbright Scholars
Graduates from Historically Black Colleges and Universities (HBCUs)
International Parliamentary Scholarship (IPS) Alumni
Jesuit Volunteer Corps
McNair Scholars
Members of the U.S. Military
Payne Fellows
Pickering Fellows
PPIA Fellows
Rangel Fellows and Scholars
Returned Peace Corps Volunteers (RPCV)
Those applying from Sub-Saharan Africa
Teach For All (including Teach for America)
Truman Scholars
To arrange for your fee waiver, contact Julie McMurtry or clas@georgetown.edu no later than January 2 to verify your eligibility.