Master's Program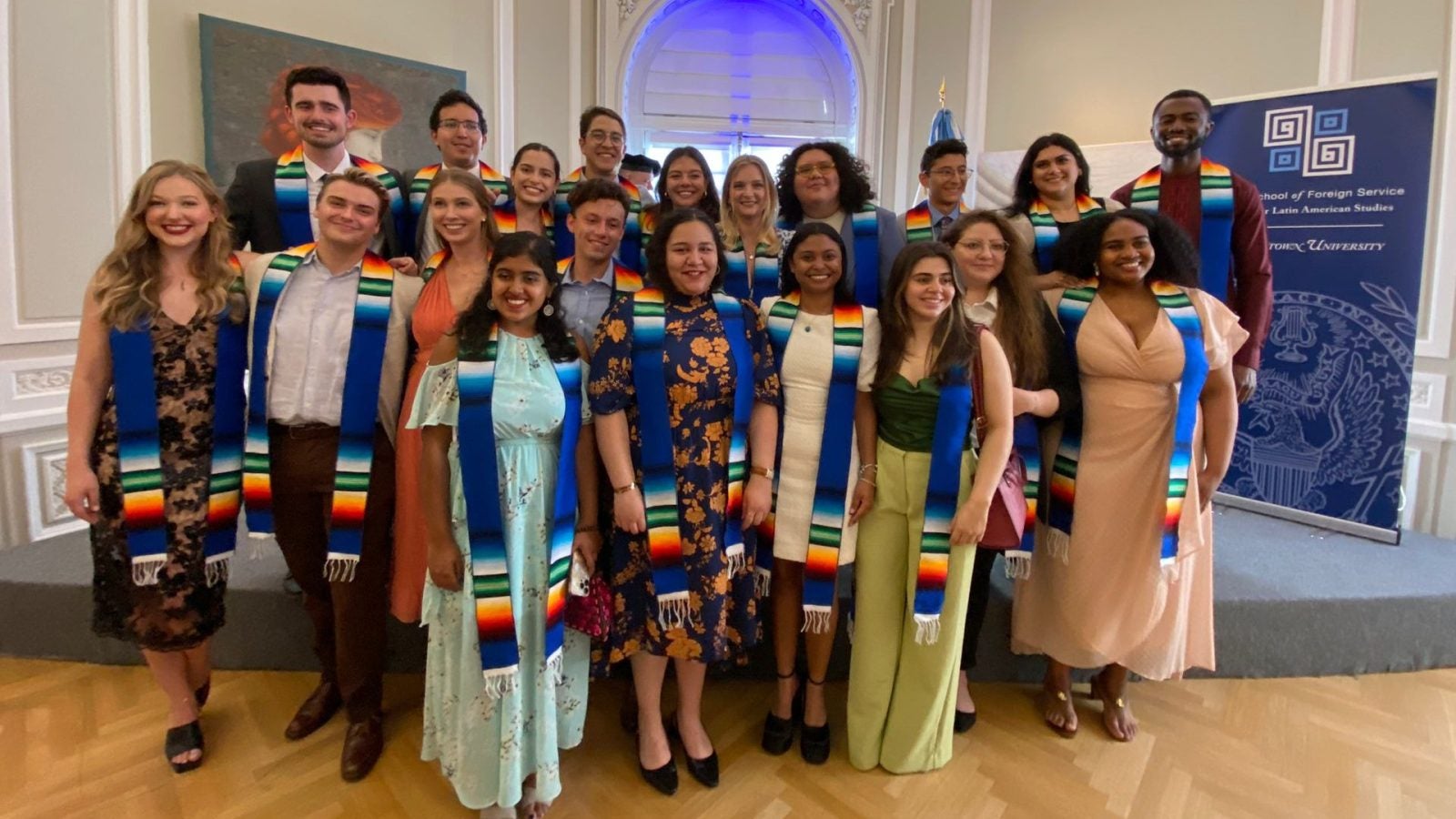 The Master of Arts in Latin American Studies at SFS is a rigorous, interdisciplinary graduate program, designed for students pursuing careers in government, business, and international organizations in the U.S. and abroad, as well as those who contemplate additional post-graduate work in the humanities or social sciences. M.A. students typically focus their studies in one of the following concentrations: Governance and Leadership; Development and Political Economy; History, Culture, and Society.
There are four major degree requirements for the MA degree:
36 credit hours of graduate coursework with a minimum grade point average of 3.0 on a 4.0 scale OR the completion of 33 credit hours of graduate coursework and the successful defense of an MA thesis.
Language proficiency in either Spanish or Portuguese.
Completion of an Internship.
Completion of a Capstone Project.
While most students complete the degree in two years on a full-time basis, part-time and accelerated options are available as well.
In addition to the MA in Latin American Studies, CLAS also offers an undergraduate and graduate certificate in Latin American Studies, a joint MA/PhD program with the Department of Government, a joint MA/JD program with the Georgetown University Law Center, and an accelerated BAorBS/MA program. Also, cooperative degree agreements with colleges and universities allow undergraduates from these schools to pursue an accelerated masters degree in Latin American Studies at CLAS.
The Center sponsors three summer graduate programs located in Brazil, Chile, and Colombia and encourages individual summer research throughout the hemisphere.
Coursework
Each MA candidate may be required to take one Research Methods course relevant to their chosen concentration and take four courses that count toward the core requirements; six courses in their chosen concentration; one elective course and one Capstone course. Selection of courses is done in consultation with the Associate Director, the MA Program Director, and the student's Concentration Advisor(s).
Students planning concentrations in Government, Political Economy, or any other course of study requiring work in Economics must have completed introductory courses in microeconomics and macroeconomics prior to enrollment.
Peruse graduate course offerings with Latin America content in our curated list here.
Of particular note are our new CLAS course offerings for Fall 2023:
*NEW* LASP-7605-01 – Qualitative Methods for Applied Research
Duica-Amaya, Liliana (Visiting Fall 2023)
*NEW* LASP-4221-01 Soccer and Culture in Brazil (Brazilian Society)
Rial, Carmen (Visiting Fall 2023)
Georgetown's CLAS is hosting Dr. Carmen Rial as the 2023-2024 J.W. Fulbright – Dr. Ruth Cardoso Visiting Scholar from Brazil.
*NEW* LASP-4702-01 Finance, Politics & Democracy: LAC
Farfan Mares, Gabriel (Visiting Fall 2023)
*NEW* LASP-6680-01 Natural Resources and Development in Latin America
Manzano, Osmel
Electives
Students may take one elective course. The elective allows for experimentation, diversity, and additional study in fields outside the concentration and is commonly used to strengthen a regional or issue focus.
Independent Study
CLAS students have the opportunity to arrange independent studies for academic credit. Independent study programs must include the development of an original research project on a topic related to the student's coursework or thesis. Individual mentors must be obtained to oversee the independent study, and the program must be approved by the MA program director.
Certificates
The Walsh School of Foreign Service offers a variety of graduate certificates that allow students to focus on a particular region or topic throughout their studies. Certificates, unlike concentrations, show up in your transcript. The certificates listed below are offered by departments and centers across the SFS and have their own requirements in addition to the requirements of the M.A. in Latin American Studies.
MA with Thesis
Students who wish to complete a thesis must identify a research topic and a thesis adviser by the end of their first semester. Students choose two faculty members to guide their thesis process: a thesis advisor and a second reader. It is strongly suggested that the thesis adviser be a member of the CLAS faculty. Second readers may be either full-time Georgetown University professors or adjunct faculty.