Graduate Certificate in Latin American Studies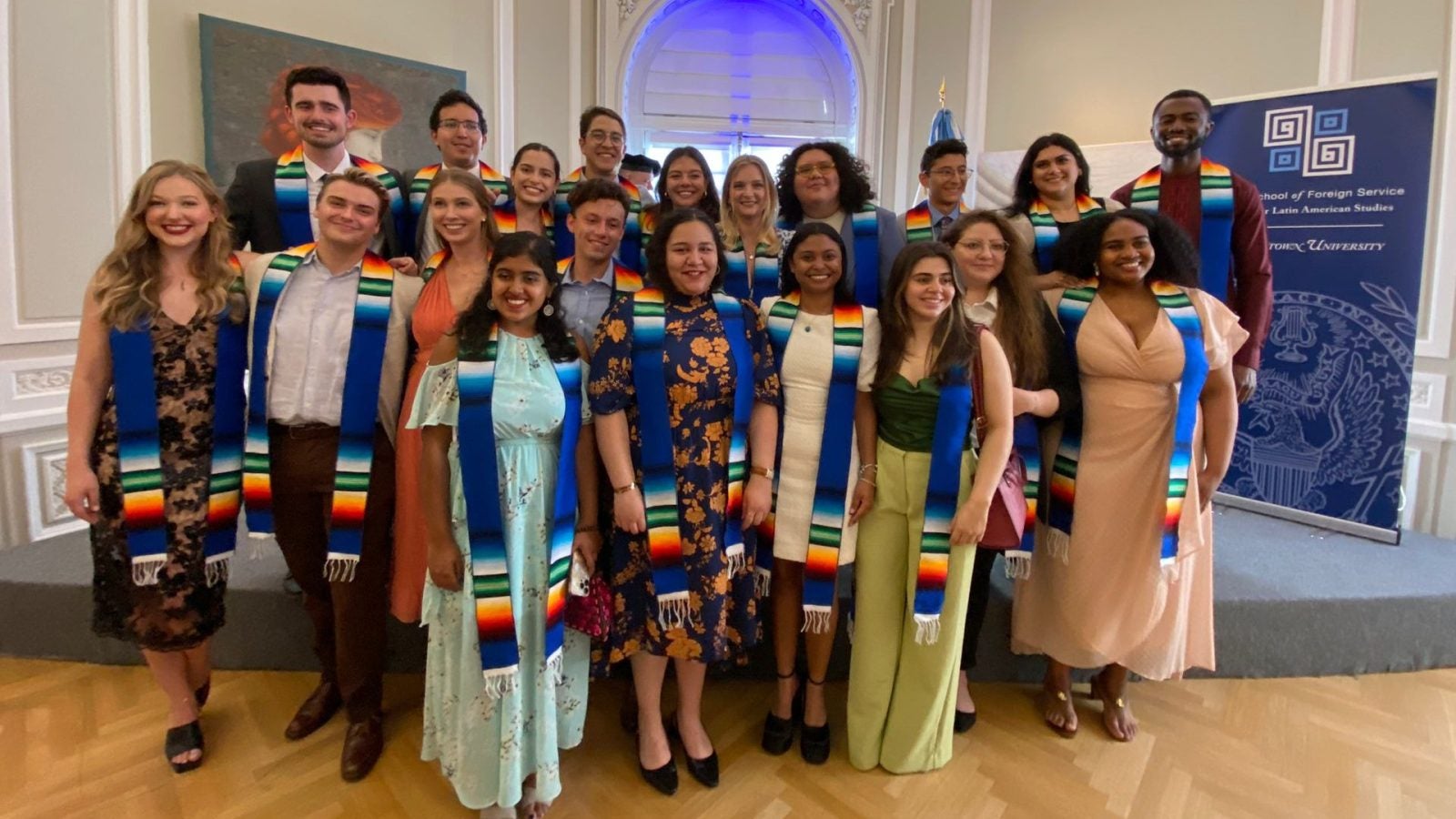 Any student already enrolled in a Georgetown University graduate program is eligible to pursue the graduate certificate in Latin American Studies. Students must declare candidacy for the graduate certificate as soon as possible, and no later than the end of the first year of their graduate program.
The Graduate Certificate aims to meet the needs of a broad, multidisciplinary constituency. Complete the Interest Form to apply!
Earning the graduate certificate requires successful completion of:
Five (5) graduate courses (a total of 15 credits):

Two (2) foundation courses are required, chosen from a set of four offerings:

Origins and Transformations (LASP-7501)
Culture and Power (LASP-7502)
States and Societies (LASP-7503)
Political Economy (LASP-7504)

Three (3) courses are electives.
Demonstration of proficiency in a language from the region (Spanish or Portuguese) is also a requirement for the graduate certificate.
This curricular structure allows students to individualize their study and pursue their specific interests while ensuring that their knowledge of the region is marked by disciplinary and thematic breadth. Students wishing to pursue the CLAS graduate certificate must work with their home program to determine how courses taken to complete the certificate fit within their graduate program's required coursework. The CLAS Associate Director will coordinate closely with the home program and advisor of each student pursuing the graduate certificate to ensure smooth integration.
In choosing elective courses, students should prioritize graduate-level (i.e., 5000-level or higher) courses. No more than two elective courses could be over/under courses, and taking such courses requires the approval of the CLAS Associate Director and the student's graduate program advisor. Any course with a LASP prefix (at the appropriate level) will be automatically approved as an elective course. All other elective courses chosen from among the offerings of other departments and programs require the approval of the CLAS Associate Director and the student's graduate program advisor.
Please see the CLAS website and your home program website for a partial listing of eligible courses.
Language Proficiency
All students pursuing the graduate certificate are required to take the oral language proficiency examination in Spanish or Portuguese (administered by the Department of Spanish and Portuguese) in the semester in which they begin to pursue the graduate certificate. Students must pass the exam with a grade of good or better (on a rating scale of poor, fair, good, very good, excellent) in order to receive the graduate certificate.